Choose your language
News
New Layout!
I hope you like it
+++
Welcome at the official Website of the
Gospel Sisters & Brothers
.
After a long break we are back ;-) We really enjoyed our summer holidays and now we are very busy again. This year we will have got a new programme with new songs and we deal with a performance. We are really proud to welcome new members. Sonn you will be able to read something about them!
About us
Anja
Anna
Anne
Carolin
Janin
Lisa-Marie
Miriam
Robert
Sandra
Siegrun
Simone
Sophia
Tanja
Thomas
For You
Concert Dates
Newspaper Articles
Photos
Our tour diary
Denmark 2006
Denmark 2007
Bad Hersfeld 2007
Our Partners
Happy Beetles
Key-Action
Credits
Layout ©
Carolin
Pictures © Gospel-Sisters
powered by
myblog.de
Brushes ©
Moargh.de
,
Chinaberry Brushes
,
Strange Angels
,
Artflower
,
The White Whisper
&
Seishido
.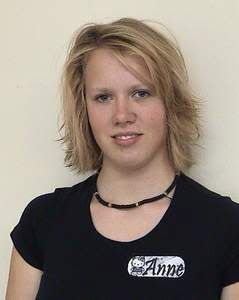 About Anne



Name: Anne Knöchelmann

Birthday: 1st 12. 1989

Home: a little town in Thuringia called Bad Liebenstein

Main job: At the moment I`m a student in the 11th class at the grammar school of my home town. My advanced courses are German and English.

When did you start making music?: When I was in class 2 I decided to learn how to play the keys. Now I`m learning to play the piano and I join the Gospel Sisters.

Favourite music: I prefer hearing Reggae & Ska-everything which gives a summer atmosphere


Favourite band: Dr. Woggle & the Radio, Mutabor, Red Hot Chili Peppers

Imagine you are in a bar. Which kind of music would make you leave it? I would leave this bar if I heard House or something like that.

Which celebrity would you like to meet?I really would like to meet Jeff Buckley, Hans Söllner (even if he`s not so popular…), Anthony Kiedies and Orlando Bloom

Motto:There is a song called "High" of the German band Mutabor. I think this song is something like a motto for me.

Describtion of the Gospel Sisters:This is a great group with fantastic and lovely people. I really like to be together with them! Of course, we are a bit strange and crazy but all in all we are like a real family. And I don`t want to miss Horst, Elsbeth and all he others ;-)
You guys are great!!!