Choose your language
News
New Layout!
I hope you like it
+++
Welcome at the official Website of the
Gospel Sisters & Brothers
.
After a long break we are back ;-) We really enjoyed our summer holidays and now we are very busy again. This year we will have got a new programme with new songs and we deal with a performance. We are really proud to welcome new members. Sonn you will be able to read something about them!
About us
Anja
Anna
Anne
Carolin
Janin
Lisa-Marie
Miriam
Robert
Sandra
Siegrun
Simone
Sophia
Tanja
Thomas
For You
Concert Dates
Newspaper Articles
Photos
Our tour diary
Denmark 2006
Denmark 2007
Bad Hersfeld 2007
Our Partners
Happy Beetles
Key-Action
Credits
Layout ©
Carolin
Pictures © Gospel-Sisters
powered by
myblog.de
Brushes ©
Moargh.de
,
Chinaberry Brushes
,
Strange Angels
,
Artflower
,
The White Whisper
&
Seishido
.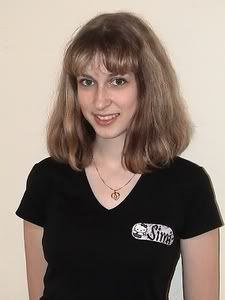 About Simi


Name: Simone Schneider (Simi
)

Birthday: 13.07.1987 ... so I belong to the old hares *lol*
Residence: the idyllic and sunny village Immelborn
Main Job: That's a good question. I'm in the process to get a training place. Recently I was an Au Pair.

When did you start making music? Oh, another good question. Originally I always sang (how good is another question :D). I´ve had a year of singing lessons as well. And I started with Keyboard in autumn 1997. Before that I was a passionate recorder player *lol*. And finally I´m a member of Key-action since autumn 2004, the now called Gospel Sisters. (What a career!!!)

Favourite Music: Rock (Middle Ages Rock), but also RnB and Gospel (I´m not that commit in this point)

Favourite Bands: there are some, for example Schandmaul, Evanescence, die Ärzte, Norah Jones, Juan Garcia, James Morrison, Snow Patrol ... and of course the Gospel Sisters and Colin Vassell


Imagine you're in a bar. Which music would make you leave it? Techno, House.

Which celebrity would you like to meet? Well, you´ve always fun with Juan Garcia. Or with another one of my favourite bands. ...

Motto: : "There´s nothing good except if you do it." (wow, that´s hard to translate, because it´s a German proverb. This was just a trial.)

Description of the "Gospel Sisters": Unbelievable!!! We are a wonderful group and I´m so glad to be in this group and to sing with them.