Choose your language
News
New Layout!
I hope you like it
+++
Welcome at the official Website of the
Gospel Sisters & Brothers
.
After a long break we are back ;-) We really enjoyed our summer holidays and now we are very busy again. This year we will have got a new programme with new songs and we deal with a performance. We are really proud to welcome new members. Sonn you will be able to read something about them!
About us
Anja
Anna
Anne
Carolin
Janin
Lisa-Marie
Miriam
Robert
Sandra
Siegrun
Simone
Sophia
Tanja
Thomas
For You
Concert Dates
Newspaper Articles
Photos
Our tour diary
Denmark 2006
Denmark 2007
Bad Hersfeld 2007
Our Partners
Happy Beetles
Key-Action
Credits
Layout ©
Carolin
Pictures © Gospel-Sisters
powered by
myblog.de
Brushes ©
Moargh.de
,
Chinaberry Brushes
,
Strange Angels
,
Artflower
,
The White Whisper
&
Seishido
.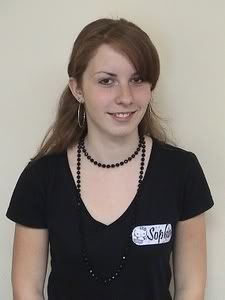 About Sophia



Name: Sophia Wenzel

Residence: Langenfeld

Main Job: I´m like most of the others a student

When did you start making music? At the age of 5 I began to play the Keyboard. After that I also learned playing the piano.

Favourite Music: Nearly everything, I don`t prefer hearing a special style or genre except of Heavy Metal

Favourite Bands: at this time I really like Snow Patrol

Imagine you're in a bar. Which music would make you leave it? "Party songs" like 10 Nackte Frisösen

Which celebrity would you like to meet? Brad Pitt

Motto:: Don´t dream while you`re living. Just live your dreams!

Description of the "Gospel Sisters": It is a very funny group and you can really laugh with all of them!