Choose your language
News
New Layout!
I hope you like it
+++
Welcome at the official Website of the
Gospel Sisters & Brothers
.
After a long break we are back ;-) We really enjoyed our summer holidays and now we are very busy again. This year we will have got a new programme with new songs and we deal with a performance. We are really proud to welcome new members. Sonn you will be able to read something about them!
About us
Anja
Anna
Anne
Carolin
Janin
Lisa-Marie
Miriam
Robert
Sandra
Siegrun
Simone
Sophia
Tanja
Thomas
For You
Concert Dates
Newspaper Articles
Photos
Our tour diary
Denmark 2006
Denmark 2007
Bad Hersfeld 2007
Our Partners
Happy Beetles
Key-Action
Credits
Layout ©
Carolin
Pictures © Gospel-Sisters
powered by
myblog.de
Brushes ©
Moargh.de
,
Chinaberry Brushes
,
Strange Angels
,
Artflower
,
The White Whisper
&
Seishido
.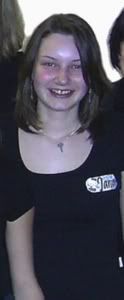 About Janin




Name: janin Bögel

Birthday: 22th 07 1992

Residence: Bad Salzungen

Main job: I have to go to school...

When did you start making music?? When I was in the kindergarden I began to learn how to play the melodica, later I played the accordeon and now I really like to sing

Favourite music: Gospels and some songs which are popular at the moment

Favourite band: That`s pretty hard to say... At the moment I really like to listen to songs of Christina Aguilera

Imagine you're in a bar. Which music would make you leave it?: German folk music...

Which celebrity would you like to meet? I`d like to meet all of them. But if I really had to choose I would like to meet Orlando Bloom

Motto: It is a mixture of these three little poems:
Knowledge is power, but knowing not everything isn`t a shame.
Live and love!

Description of the "Gospel Sisters": I`m really glad that I can be a member of this choir! All the others are nice and everything`s alright. It`s very funny and you feel like an important part of the group from the first moment on!